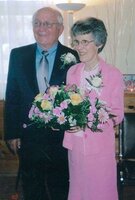 Marilyn Hedberg
It is with great sadness we announce the passing of Marilyn Hedberg, a resident of Dawson Creek, British Columbia on Wednesday, February 10, 2021 at 65 years of age.
Marilyn was born January 27, 1956 in the Dawson Creek, BC Hospital. She was the 7th child and the 1st daughter of Theodore and Alice Weipert. Marilyn's childhood to the age of 14 was spent in East Doe River, where she enjoyed the outdoors (so much so she always broke the bedroom window). Marilyn and her brother Bob would rescue stray animals and nurse them back to health. When Marilyn was 14 the family moved to Pouce Coupe where she rode the school bus to Frank Ross till she decided to go to work. Later on in life after she had her children and they had started school Marilyn went back to night school and got her GED.
In 1975 Marilyn married Albert Sr. and had 3 children, Albert Jr., Desmond, and Melissa. In 1980 Marilyn lost her husband to a tragic accident. Marilyn raised her children on her own for a few years and was then fortunate enough to meet another companion, Randy, and were together for many years.
Marilyn was very involved with the Pouce Coupe Recreation while her children were participating. When her children got to high school and continued sports she traveled everywhere they were playing or participating. Her children were the center of her life. When she had spare time she enjoyed sewing, knitting, gardening and the outdoors. Marilyn volunteered with the Legion Ladies Auxiliary Pouce Coupe Branch 34 for many years. Marilyn also spent lots of time with seniors cutting their hair and listening to their stories.
Marilyn is lovingly remembered by her children Albert, Desmond (Jenny), and Melissa; grandsons Randall, Trystan, Hunter, and Victor; stepson Blake; step-grandchildren Dawson and Shaya; her mother Alice; brothers Bob, Orv (Marion), Kevin (Nina), and Barry (Reyna); sisters Gale (Myles), Cathy (Wayne), and Doris; sisters-in-law Fern, Alma, Sharon, and May (Bob); numerous nieces, nephews, extended family, and friends.
Marilyn was predeceased by her husband Albert Sr.; her dad Ted; brothers Raymond, Melvin, Brian, and Garry; and nephews Darren and Denny.
For friends so wishing, donations may be made in Marilyn's memory to BC Heart & Stroke Foundation, 1480 Seventh Avenue, Prince George, British Columbia V2L 3P2 or the BC Children's Hospital, 938 W28 Avenue, Vancouver, British Columbia, V5Z 4H4.
Very Respectfully, Reynars Funeral Home & Crematorium