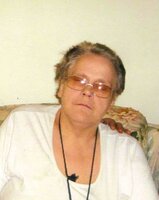 Owen Cardinal
It is with heavy hearts that we announce the passing of Owen Cardinal, a resident of Kelly Lake, BC. Owen was taken from us suddenly on Friday, August 16, 2019, in Kelly Lake, at the age of 54 years.
Owen was born in Prince George, BC on August 26, 1964 to George and Elizabeth Cardinal. He was the youngest of five siblings. He lived in Alberta with his mother until he was 5 years old, then he and his mother came to live with his sister, taking turns staying in Chetwynd, Kelly Lake and Dawson Creek. Finally, he settled in Dawson Creek with Donna Williams; the mother of his three daughters. In 2003 the two went their separate ways after spending 15 years together, and from then on he became a single parent.
Owen was a kind person and worked hard all his life in the bush, doing contracting work; he ran power saw as a faller, and he also did seismic.
He loved his daughters and grandchildren dearly and was very proud of them. He did the very best he could raising his girls. All of whom turned out to be beautiful, well behaved girls, considering him having to leave for work and stay in camp for periods of time to support his family. He always succeeded, with help from family and friends. He had a very good sense of humour and loved to laugh. He would always be there to offer a helping hand and was eager to share when he had more than he needed. He strived to give his daughters a good home and life, with fatherly love and a bit of strictness that shaped them into the women that they are today. That's what made him so unique and such a wonderful father. In 2017, him and Rosanne took on the role of raising their grandson, Liam.
One of his favourite things to do was sit outside by the fire and have a beer with friends and family. All of us celebrated his life with a BBQ and just before we did a traditional ceremony to give him a plate of food and a beer, an eagle flew over and we all knew he was there with us.
Owen is survived by his loving wife; Rosanne Belcourt, daughters; Debra, Kayla and Brett, grandchildren; Kayden, Liam, Kiana, Ava and Hazel, sisters; Marjorie Belcourt and Florence Johnston, brother; Dale Cardinal (Chuck), as well as numerous nieces, nephews, extended family and friends.
Owen was predeceased by: his parents; George and Elizabeth Cardinal, sister; Barbara Cardinal, nephews; Jason (Gladue) Campbell and Roger Belcourt.
We love you dad, grandfather, brother, uncle and friend. Until we meet again.
A Celebration of Owen's Life was held on Saturday, August 31, 2019 at 1:00 PM from Reynars Funeral Chapel, Dawson Creek, BC. Pastor Cory Lizotte Officiated. Interment will follow at a later date.
Very Respectfully Reynars Funeral Home & Crematorium