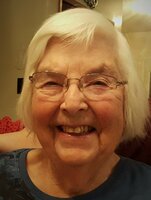 Lillian Maggy Gauthier
Lillian Gauthier, a lifelong resident of Moberly Lake, BC, passed away peacefully at home with family by her side on Friday October 6, 2017 at Moberly Lake at the age of 78 years.
Lillian Maggy Cryingham was a proud decedent of the Dunne-za people. She was born on May 15, 1939 in West Moberly Lake to parents Mary Cryingman and Fred Napolion who were longtime residents of the Moberly Lake community. After growing up on the west end she moved to Riverside where she spent the remainder of her life, she married Oliver and raised her children. Lillian spent over 40 years happily married, from January 18, 1958 to 2008 when Oliver passed. Lillian loved her Riverside clan as they always stuck together through the good times and bad, no matter what.
Lillian's ability to speak both the Denne-za and Cree language made her one of the last bilingual elders left on the reserve. She was proud of her roots and was not afraid to tell anyone. Lillian spent most of her life travelling alongside her husband and brothers going from rodeo to rodeo. When not on the road she spent her time as a respected homemaker for the elders on the reserve.
She was a woman of many talents; she had the hands of a meat cutter, hide scrapper and a moccasin maker. Her passion and dedication for beading, berry picking and canning proved she really could do anything she put her mind to. She could cook up a storm to feed her tribe when needed. Her heart of gold cared for many people who crossed her path during her walk of life. The knowledge and stories she shared with her family and friends will never be forgotten. Lillian was not only a kind, generous, happy, funny lady, she was a role model for many and the queen of the Gauthier family.
Lillian raised many children in her day, starting with her own. She had a hand in raising her many grand and great grandchildren, raising them to be the fine young men and women they are today. The numerous foster children cannot go without notice as they too gained memories and life lessons from her. She taught them to cook, clean, treat people with respect and to be a good person. She would never say no to anyone in need of a helping hand or a place to stay, her door was always open.
They say when mom says no to ask grandma, and all of Lillian's grandchildren will agree that this statement is very true. Lillian and Oliver gave nicknames to all of their grand and great grandchildren over the years. These names provided an individual connection between them and their grandma and grandpa. They loved all their grand and great grandchildren equally and they made sure they knew that.
Lillian was very proud that she was able to meet Gordan Cambell who was the Premier of BC at the time. She always said that was one of the highlights of her life, as well as seeing her favorite country music singer Loretta Lynn in concert. One of the last camping trips her and Oliver took together was up to Twin Sisters.
Last but not least, Lillian was a woman of faith. Her dedication to Christianity was stronger than ever. She was a believer in the Lord and never missed her two hour prayer before bed at night. It was her faith that kept her going until the Lord opened His arms to her.
Lillian lived nothing short of a good life as a respected elder of her community. She will be dearly missed by many.
Lillian leaves to mourn her daughters; Norma (Rick), Geraldine (Ray), Lucy (Norman), and Stella (John), her sons; Derald (Liz), and Myron, her grandchildren; Nicole (Poco), Lisa (Adrian), Patrick, Arthur, Christopher (Kaycee), Dustin, Payton, Melanie (Todd), Falon, Amanda, Timber, Kaylynn, Tyson, Lacie (Mike), and Josh, her great grandchildren; Riley (Danae), Ryan, Colby, Oliver, Andrew, Caleb, Aaliyah, Taiya, Jayden, Reece, Ethan, Phinn, Gracie, Kale, and Teara, her sister Della, her brothers; Ted, Stan, Ernie, and Bud, as well as her adopted children Vange Robbins and Gardner Karakootie, along with her niece Ronda Lalonde-Auger, and numerous other relatives and friends.
A Prayer Service was held on Friday October 13, 2017 at 8:00 PM at Our Lady Of Peace Catholic Church, Chetwynd, BC.
A Mass of Christian Burial was held on Saturday October 14, 2017 at 11:00 AM at Our Lady Of Peace Catholic Church. Father Rene Antonio officiated. Interment followed in the Lake View Cemetery, Moberly Lake, BC.
Very Respectfully Reynars Funeral Home and Crematorium