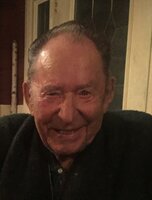 Ernest Paradowski
It is with great sadness that we announce the passing of Ernest Paradowski on Thursday, February 8, 2018 at home in Farmington, B.C. at the age of 81 years.
Ernie was born November 28, 1936 in Dawson Creek at the old St. Joseph's hospital, He was the second of 4 children born to Bill and Ella Paradowski. Ernie always said that his earliest memory was the Dr. spanking him the day he was born and telling him to stop running around the hospital naked.
Ernie and his siblings: Jean, Lewis and Violet, were raised with a strong work ethic and though they learned to work hard at a very young age, they also had a lot of fun growing up. Ernie was a great story teller and would gladly reminisce about the old days telling his children and then his grandchildren about how life was lived in the early days of the Peace Country.
Life was not always easy on the homestead. The work was all manual but eventually Bill acquired the much-needed horses for field work and transportation. From the time he was a small boy Ernie worked with the horses and always admired a well-trained team his whole life long.
When you had a long walk to school and back everyday there was always plenty of time to think about ways to get into mischief.
One of his favourite stories to tell in recent years was about his Uncle, John Trynchuk. Uncle John lived on a neighbouring quarter and was known to be of a cranky nature. One of the 3 siblings decided to lock the outhouse door after Uncle John went inside and then using a hand pump fire extinguisher they took it upon themselves to spray water in every available knot hole in the wee shack. When uncle John's hollering reached the farm house Jean, Ernie and Lewis lit out for safer territory as Ella came to open the locked door. Though they did get a talking to Ella was secretly giggling along. They kept their distance from Uncle John for many days after that.
Ernie's sister Violet was a Down's Syndrome child. In those years children with disabilities were sent away to be institutionalized. Bill and Ella told the doctor in no uncertain terms that Violet would be coming home and be raised and cared for by them. It really was a family effort and Violet, aka Little Joe was the joy of their home. Though she suffered many health issues that go along with Down's Syndrome, she was active and had a special place in the hearts of many. Ernie loved to recount the endless funny things that she would say and do. Sadly, she passed away in 1959.
As a young man Ernie decided that he had enough formal education and he stayed home to help on the farm. He worked at several saw mills in the area and eventually he hired on with Bruce Harden and worked in the oil patch. Yes, young people there was an oil patch here in the 1950's. Ernie was a truck driver and hauled pipe and equipment between Dawson Creek and Ft. Nelson. Over the years he regularly spoke of his experiences working up North.
Dalton and Norma Doonan moved their family into the neighbourhood just a couple of miles from the Paradowski Farm. Dolores and her siblings would often make their way to the farm to get milk and visit. Ernie started walking Dolores home and that was the beginning of 58 + years together.
Dolores recalls many fun evenings driving around in Ernie's black Ford truck with her friend, Babs Smalley in tow. On November 6, 1959 they sealed the deal and were married at the United Church in Dawson Creek. After the wedding Ernie helped Uncle Mike Slowinski out at his farm in Clayhurts, but in the spring of 1960 Ernie started building a house on the quarter just west of Bill and Ella's farm. Ernie was left handed and his house was custom made to meet all of his left-handed needs. Some doors opened to the left, water taps had hot on the right and turned opposite of what you would expect. Home sweet home.
As was mentioned earlier, Ernie held many jobs but finally settled in at the Department of Highways in Pouce Coupe in 1960 where he worked for 39 years before he retired.
Almost exactly 1 year after the wedding Michael William was born on November 8, 1960 while Ernie was away working. It was up to Ernie's cousin Bill Trynchuk to get Dolores to the hospital. When Bonnie Lorraine arrived on November 15, 1962 Ernie was home and did the driving. He always said they almost delivered Bonnie on the train tracks just west of town, so he declared that when it was close to time for Pauline to be born in December of 1968 Dolores would be staying in town with her sister Florence-close to the hospital.
The family heard stories about Ernie's work day every night at supper. Everything from the number of miles he had graded, or wildlife seen along the way was reported on. Sometimes it was a funny story, sometimes reports of close calls and accidents. Ernie graded thousands of miles of road in the outlying areas of Dawson Creek. When Kelly Ingwerson heard of Ernie's passing he texted Mike and said, "He was a great man. I won't forget my time with him. Taught me lots. Turned me from a grader driver to an operator."
Though he was a grader man, Ernie was a farmer at heart. There are countless stories about life on the farm. Farming with a team of horses and being on the threshing crew, getting the first gas powered equipment, pulling calves and chasing cows, milking cows in the old barn by lantern light. Pigs, chickens, horses and cows……as the Archie Bunker theme song says, "Those were the days."
Speaking of Archie Bunker, Ernie had his favourite t.v. shows. High Chapperelle, Bonanza and Gunsmoke were all favourites. If Ernie's show was on, you were watching what he was watching. When Heather and Travis were little they often had sleep overs at Grandpa and Grandma's house. One Friday night Travis was sitting with Grandpa in the big green chair watching Tommy Hunter when Pauline got home. She was obviously too noisy because Travis put his finger to his lips and said, "Shhhh Auntie, Tommy Hunter is on." Poor little guy! Brainwashed so early in life to like old time country music.
Ernie was painfully practical in so many areas of his life. Vicks vapour rub, Buckley's Mixture and an onion sandwich would cure just about anything that ailed you. Any Watkins product or Wild Strawberry elixir were next on the list of remedies. And of course, Ernie took great pride in telling people that he still used the old outhouse. No indoor plumbing for him. Ernie's wardrobe choices were where he truly shined. Such as at Mike and Shelley's wedding. It was quite a snowy event for a spring wedding and in true Ernie fashion he arrived at the church in his rolled down rubber boots. It was a farmer fashion statement to be sure. I believe the bride's father, decked out in his wedding attire, expressed his envy at Ernie's being allowed to sport such footwear.
Ernie liked all of God's creatures. He was always seeing wildlife, big or small as he travelled down the road. He could spot the largest of moose right down to the lowly weasel or rabbit. Ernie's daughter Bonnie discovered that a furry little creature had made its way into her shed so she knew if anyone could tell her what it was it would be Ernie. She called her dad and described to Ernie a little bundle of fur with puffs of hair on it's ears. "It is so cute," she told him. Ernie made his way down to the shed and went inside. He baked out faster than he went in. In a few very short flowery words that we cannot use here today he explained that it was a pack rat.
Ernie worked hard and when he could find a way to make a job easier or more efficient he would. So, when Pauline was in grade 9 she started taking guitar lessons at school. When Ernie saw that she was going to take it seriously and actually use what she was learning he decided she needed a music stand. A couple of 2x6 pieces nailed one on top of the other in an X were draped with green fabric that had been stylishly trimmed with pinking shears. Next, a 3 ft piece of 1" pipe wrapped in black electrical tape, was inserted into a hole drilled in the wood. One 12" square cooling rack from Dolores's kitchen with 3 little bent pieces of baling wire to keep the music sheets from sliding off was skillfully attached to the wrapped pipe and, voila…..a music stand. Ernie was way ahead of the DIY movement of today.
Ernie's shining moment of practicality occurred just a few short weeks ago. Because of Ernie's declining health Dolores had not been out shopping much and unfortunately, they ran out of toilet paper. Ernie flatly refused to use the Kleenex from the box that Dolores had put in the bathroom. In the middle of the night she woke up to a sawing sound outside the bedroom door. In the morning when she asked Ernie what he had been doing he told her that he had got meat saw out of the utility room and cut a few rolls of paper towel in half to make toilet paper.
Ernie took up a hobby: Carpentry. Grandkids received toy boxes, brides received cake boxes to display their wedding cakes, and Dolores had some closets made for her bedroom. Fir or knotty pine was his wood of choice and for a few years he enjoyed the craft.
When Ernie retired he found ways to keep himself busy around the farm, but more often than not he enjoyed doing jobs for his children and their families. He loved his grandkids and it wasn't unusual to see a little tyke in the tractor with grandpa going to feed the cows. Sometimes, if they were lucky, a ride in the bucket on the front of the tractor was to be had. Grandpa always had a joke or a funny story to tell the kids and of course they all heard about times when, quote, "I was a kid." It wasn't unusual to have Grandpa reach into his pocket and pull out a handful of change and flash it quickly past the kids and then say, "If you can guess how much money is in my pocket you can have it." In fact, he would always have a loonie or toonie for just about any kid that came across his path, whether he was at a store or the Dr.'s office. A few of the grandkids may have felt the sting of Grandpa's hand on their backsides, but they all knew Grandpa cared about them. Once we learned Ernie's time would be short the family started dropping by for quick visits. Ernie always put on his best smile, told a joke and kept the conversation lighthearted in order to keep the grandkids from being sad.
Retirement allowed Ernie and Dolores to spend a lot more time together. In fact, it wasn't unusual to see them out for a Sunday drive whether it be Tuesday or Friday. They often made circle trips and one of the most common was Dawson Creek to Rycroft, turn north and head to Hines Creek and then back to FSJ, and down the Alaska hwy to home. Sometimes they switched it up and cut through Clayhurst and Rolla. And if they were driving by family they would stop in and visit always bringing a treat. If we weren't home, we always knew they had stopped by because there would be candy hiding in the BBQ.
Ernie and Dolores often went out for a meal. They knew who ate at Lee's, Meng Fan and the Lodge. If Dolores needed to do the grocery shopping at the Co-op Ernie would visit with friends and neighbours while he waited.
These are only a few of the many stories that we could tell about Ernie but we would like to close with a condolence that was sent to Reynars website. It simply sums up Ernie.
"We were terribly sorry to hear of Ernie's passing. He was such a hard working, salt of the earth kind of guy, who will be missed terribly. He was always ready to help anyone who needed anything. We were so lucky we had the good fortune to be his neighbour 40 years ago." Christa and Fred Reich (Reesh)
A Funeral Service was held on Friday, February 16, 2018 at 11:00 AM from Reynars Chapel. Pauline Haycock officiated. Interment followed in the Sunrise Valley Mountain View Cemetery.
For friends so wishing, donations may be made in memory of Ernie to the Dawson Creek & District Hospital, Palliative Care Unit, 11100-13 Street, Dawson Creek, B.C. V1G 3W8, or to the Salvation Army, 1019-103 Avenue, Dawson Creek, B.C. V1G 2G6.
Very Respectfully Reynars Funeral Home and Crematorium