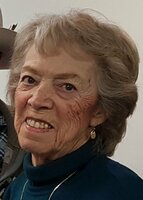 Brenda Maisey
Brenda Maisey, a longtime resident of Chetwynd, B.C. passed away peacefully with her loving husband and son by her side, on Monday, January 22, 2018 in Chetwynd at the age of 75 years.
Brenda showed amazing strength and positive attitude after being diagnosed with a very rare, rapid brain cancer in August 2017. Never one to conform to the norm or dwell on the negative, Brenda remained positive, keeping her sense of humour through these tough times and continued to teach us all valuable lessons, giving us all strong messages right up to her passing - a gift we believe she gave us to help us through such difficult times.
Growing up in Fulham, London, Brenda was born during an air-raid in the second world war! Brenda and her husband Keith started their married life together at the age of 17, residing in West Kensington, London, with their two little girls Dawn & Della. They later moved to the English countryside in Bucks Horn Oak, Nr. Farnham, Surrey where they brought two more beautiful children into their family, Charlotte and Keith Jr. Raising their four children in their lovely country home surrounded by Alice Holt forest, where Brenda worked for the Forestry commission Research Station. They had many animals, a large vegetable garden and a house always full of neighbours, visitors, family and friends!
In March 1981 Brenda and Keith emigrated to join and live with Keith's father, Herb Maisey at Moberly Lake, BC. where they enjoyed many new experiences of remote northern living! They later moved into Chetwynd where they both become passionately involved in the community, while continuing to enjoy many years having fun with family and friends at the Moberly lake cabin.
Brenda was an advocate for social justice, equality, inclusiveness, community affairs, women's rights and support programs, proven by the many projects and programs she initiated or supported in her community. Brenda loved and cared passionately for all wildlife, the environment and enjoyed the arts. An avid traveller to other countries, and also enjoyed travelling to see her family and friends in Alberta, Saskatchewan and B.C.
Brenda will be lovingly remembered by her loving and devoted husband Keith of 58 years, and the pride and joy of her life, her four children and nine grandchildren: Dawn & Kevin, Tylor & Aimee Maurer; Della & Garth, Brayden, Harrison and Samuel Ruopp; Charlotte & Stan, Cole & Maria Johnson; and son Keith, Nicholas & Loula Maisey. Brenda is also survived by her three sisters and one brother in England who she so dearly loved: Barbara Cook, Margaret & Mick Prestedge, Susan Hills & Gary, and William Hills & Caroline. Along with her nephews, Martin Cook, Matthew Prestedge, Richard Lillis, David & Daniel Hills as well as her many dear cousins, aunts and uncles and extended families.
Predecessed by parents Charlotte & Williams Hills; Mother-in-law Enid Maisey; Father-in-law Herbert Maisey; nephew Anthony Lillis and Brother-in-law John Cook.
Keith would personally like to thank all of his family and dear friends for their support and help during Brenda's illness. As well as the truly devoted nurses, doctors and staff of the Chetwynd General Hospital, and the Kordyban Northern B.C. Cancer Lodge in Prince George. A special mention and thank you to Brenda's sister Sue and Gary for travelling all the way from England to help with Brenda's care.
A Memorial Service was held on Saturday, March 24, 2018 at 1:00 PM at the Chetwynd Fellowship Baptist Church. Interment will be at a later date.
For friends so wishing, donations may be made in memory of Brenda to the Chetwynd Hospital Foundation for Palliative Care Rooms, Box 507, Chetwynd BC, V0C 1J0
Very Respectfully Reynars Funeral Home & Crematorium