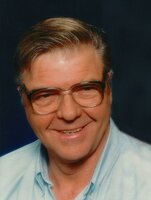 Lawrence Pickett
Lawrence George Pickett was the third of five children born June 3rd, 1942 in Bassano, Alberta to Tommy and Ruth Pickett.He was raised in Gem, Alberta where he enjoyed hunting, fishing and entered the odd rodeo as a saddle bronc rider and in the wild horse races.
When Lawrence was 19 years old he met the love of his life Marian Milne. Lawrence worked for Marians dad ranching and this was also the start of his 50+ year oil patch career. A few years later they moved to Bassano, Alberta and he started to work for Pan Canadian. Before long their first son Darcy was born followed by Lyle, Ross, Chad and Todd. Lawrence spent 7 years travelling back and forth to Dawson Creek working in the oil patch.
In 1982, he started a permanent position outside Bonanza, Alberta and at this point Lawrence and Marian decided to make the move to Dawson Creek, BC.They bought an acreage and made it beautiful through the years. They spent the next 30+ years raising their family. Having 5 boys meant much of Lawrence's spare time was spent coaching his boy's baseball and hockey teams.
Lawrence was a getter done kind of guy, and he was also tough as nails. He always had the right tool and if he didn't, he would figure out something to make it work. He was a family man, a Friend, a Dad, a Grandpa, and a Husband. Lawrence was a true definition of a hardworking man.
Lawrence passed away on Sunday, January 14, 2018 in Dawson Creek at the age of 75 years.
Lawrence is survived by His loving Wife of 54 years; Marian Pickett (Milne), Son; Darcy Pickett (Michele) their children, Tai (Eric), Shaw, Nathan, Son; Lyle Pickett his children Rylan, Trevor, Jenna, Son; Ross Pickett his children, Taylor, Darien, Son; Chad Pickett (Sherry Hauber), children, Breanna, Kaden, Sherry's children, Damian, Dylan, Tyler, Son; Todd Pickett (Meagan) their Children, Cooper, Ryder, Brother; Roger (Alexis), many Nieces, Nephews, Sister-In-Laws, Brother-In-Laws, and many special friends.
Lawrence was predeceased by Brothers; Ken and Allan, Sister; Judy, Mother; Ruth, and Father; Tommy.
A funeral service was held on Friday, January 19, 2018 at 1:00 pm from Reynars Funeral Chapel, Pauline Haycock officiated, interment followed in the Brookside Cemetery, Dawson Creek, B.C.
Very Respectfully Reynars Funeral Home and Crematorium