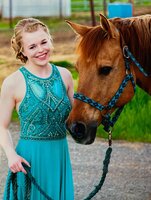 Ki Taube
Ki Peter Taube, son of Lillian & Klaus Taube, a resident of Victoria, BC, formerly of Dawson Creek, BC, was taken from us suddenly on Saturday, December 23, 2017 in Victoria at the age of 44 years.

A memorial service was held on Friday, January 5, 2018 at 1:00 PM from Reynars Funeral Chapel. Reverend Barbara Lieurance officiated. Interment will be held at a later date.

Ki was born in Dawson Creek, BC on May 1, 1973. He graduated from South Peace Secondary High School and continued on to receive a Masters Degree in Digital Arts and Communications and Media Technology at CDIS in Vancouver.

Ki worked as a talented landscaper creating gardens, waterfalls, and patios, but his true passion was art and film making. He loved painting, drawing, building movie sets and costumes, and animating his own films. Some of his films include Miami Space, Fairytail, and his latest production in the works, Parts. He was a talented musician that played at funerals and weddings and acted in the operas La Sonnambula and Carmen. Ki received many trophies in hockey and cosplay.

Ki is survived by his mother, Josephine Lillian Kuros; step-mother, Barbara Lieurance; his four sisters, Symon Taube, Kim Taube, Karen Taube, Inga Taube; his three brothers, Eric Goretzky, Duane Goretzky, and Shane Goretzky; cousins, nieces, and nephews; and the rest of his family and friends.

Ki was predeceased by his father, Klaus Taube; his niece, Krysten Taube; as well as his Taube and Kuros grandparents.

For friends so wishing, donations may be made in memory of Ki to the Salvation Army, 1019 103 Avenue, Dawson Creek, BC V1G 2G6.

The family is overflowing with gratitude and wishes to thank everyone for all forms of condolences. Also, a special thank you to Reverend Lieurance. Eulogy read by Samantha Haggerty and tributaries by Raechelle Marcotte and Amber Giguere.
Very Respectfully Reynars Funeral Home & Crematorium