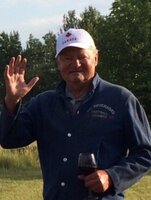 John Kenneth Niles
John was the first born to John and Catherine Niles. He grew up on the farm, doing various chores. As he got older he would go to work as a heavy equipment operator in the winter and back to farm life in the summer months.
John, and Agnes got together in 1992 and he took on the role of step dad to her two sons, Eddy and Jason. In 1998 they loaded up their motorhome and went up north to the Yukon, along with his father, mother, brother Steve and Sister Pat and her five children. It was a special holiday for him and he would often tell stories about the trip.
For many years he worked for the Alexander family and later on as Don and Donna's farm hand. He often took Agnes and Jason to help feed the cows.
John loved to dance, he was a John Wayne fan and would read many westerns. John loved Christmas and many times they would go with Pat's kids tobogganing on Christmas Eve.
John is survived by Agnes, Edward and Jason Hendricks, father John Edward Niles, sister Pat Schmidt, brother Les and Steven (Martina) Niles and numerous nieces and nephews.
John was predeceased by his mother; Catherine and brother; Joseph.
Very Respectfully Reynars Funeral Home & Crematorium