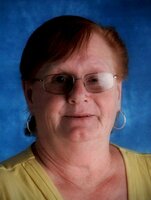 Pat Anne Buller
Pat Buller, a longtime resident of Tupper, BC passed away on Wednesday, October 11, 2017 in Dawson Creek, BC at the age of 68 years.
Patricia Ann Mapp was born in Hawkesbury, Ontario to Rene and Gertrude Mapp. She was raised in Rivington, Quebec. She came from a large family of five sisters and two brothers.
In 1969, she married Albert Veninga and they moved to Williams Lake, B.C. She worked as a clerk, janitor, and a parts woman. In between all of her hard work she added motherhood to her list of accomplishments having Tanya in 1970 and Trishia in 1972.
In the boom of '78 they moved north to Fort St John, BC where she started her own janitorial business. Being a janitor is how she met Richard and in 1980 they married.
In 1979, Pat started her career as a letter carrier with Canada Post. She always delivered the mail with a smile on her face, making new friends along the way. She worked at the Dawson Creek post office until she was diagnosed with ovarian cancer in November 2007 and after 30 years of service, took early retirement.
In 1989, Pat and Rich bought a cabin in Swan Lake. In February of 1995,at -28, their first load of lumber was delivered, and they started to build their dream home and Swan Lake became their paradise.
Country music was a staple in Pat's life. Attending copious concerts and festivals over the years made for a very happy Pat, again, making many friends along the way.
Pat loved playing bingo, crocheting, and collecting angels, salt and pepper shakers, … and dogs. They bred and raised pomeranians and shih-tzu's. One time, the total reached 19!
Pat gave to the community by doing. She was the president of the Tupper Community Hall, organized the Schnitzel dinners and the Annual Corn Roast.
She was an amazing woman. Truly beautiful, inside and out. She made an impact and was an inspiration. A true WARRIOR until the very end. Cancer does not define her, her strength and courage does.
Pat was predeceased by her loving parents Rene and Gertrude Mapp, and her sister Yvette Bigras.
Pat is survived by her loving husband of 37 years Richard Buller, her daughters Tanya (Rod Ferner), and Trishia, her granddaughters; Jolize, Jemma, and Gianna Ferner, her brothers Roger Mapp, and Rheaume (Diane) Mapp, her sisters; Janice Mapp, Iona (Wayne) Latraille, Carol Mapp, and Reine (Gilbert) Brisebois, her brother-in-law Lucien Bigras, along with numerous nieces, nephews, extended family and many cherished friends.
A Celebration of Pat's Life was held on Monday, October 16, 2017 at 1:00 PM at the Tupper Community Hall. Pastor Ruth officiated. Interment will be held at a later date.
For friends so wishing, donations may be made in memory of Pat to the BC SPCA, South Peace Branch, 637-114 Avenue, Dawson Creek, BC V1G 3A1.
Very Respectfully Reynars Funeral Home and Crematorium